PARKING IN VALENCIA
One of the questions you ask the most after booking one of our tours is about parking in Valencia: "Where can I park if I go by car?". We know it's difficult to find your way around a new city, and even more behind the wheel! And for this we are going to give you several options, so you will be able to choose the one you prefer (either a fee-paying car park or a parking space on the street).
BUT FIRSTLY, you should know that our meeting point is the PLAZA DE LA VIRGEN, so you should mark this point on your map to be able to arrive on time.
STREET PARKING IN VALENCIA

If the first option you consider is to leave your car parked directly on the street, we have to warn you not to try to park in the historic city centre. The centre has very little parking spaces, and most of them are marked as a zona azul (chargeable parking spaces, painted with blue lines, with a maximum limit of 2 hours). Nobody assures you to find a space and, if you succeed it, will cost you an arm and a leg. To avoid it, we propose several options:
Pont de Fusta Area. It's located near our meeting point and it's "less difficult" to find a place than in the historical centre. On the other side of the old Turia riverbed, between Viveros and the Zaidía neighborhood, you will reach the meeting point in about 15 minutes on foot. This will allow you to enter the historic centre like an illustrious figure from the past: through the Torres de Serranos. Here we indicate which area we are talking about: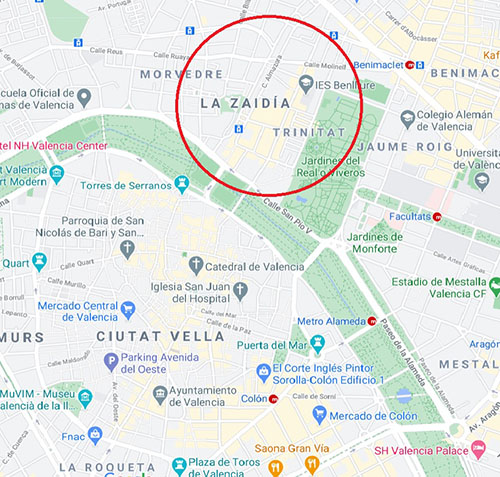 Paseo de la Alameda. On the left bank of the Turia riverbed gardens, on the Paseo de la Alameda, there's always a space to park, although keep in mind that you will find the so-called "gorrillas" lying in wait (people who show the existence of a free space to park in exchange for a tip). Give them some coins, and matter settled. In this way, you can go down to the Turia riverbed gardens by any of the many bridges that cross it, and take a walk through the gardens to the Puente de la Exposición, by Santiago Calatrava; go up and approach the Parterre (a garden from around 1850 with exotic plants, a pond and a historical monument), continue along the Calle de la Paz to Plaza de la Reina, where surrounding the cathedral, you will finally arrive to the meeting point. This is one of the possible routes that we propose, so you can familiarise yourself with the city on your way to our meeting point. With this option, your walk should last between 15 and 25 minutes, depending on how closer or further you have parked on the Paseo de la Alameda.
WALKING ROUTE LINK: https://cutt.ly/Vgd0ojO
Avenida Doctor Waskman. We are moving away from the center, and logically the further we get, the easier it's to park. If you don't mind walking, this area is about 30 minutes from the meeting point, passing the Estación del Norte, Plaza del Ayuntamiento, and Plaza de la Reina along the way.
WALKING ROUTE LINK: https://cutt.ly/DgtDJGf
Fuente de San Luis Area. Although it's a bit far from the city centre, it's one of the best areas where you can park, because there are always free parking spaces. So, you can leave parked your car and take a taxi to the city centre for practically the minimum fare (it shouldn't exceed 6 €, but this information should only serve as a guideline!). You can also take a walk, but it will take you 45 minutes (Indeed!). Shake a leg!
WALKING ROUTE LINK: https://cutt.ly/pgtDAsL
Another option after parking in this area is to walk 15 minutes and arrive at the Ciudad de las Artes y las Ciencias (WALKING ROUTE LINK: https://cutt.ly/ngd0OtC) and take the opportunity to visit it. Then you can take a taxi or a bus to the city centre.
FEE-PAYING PARKING IN VALENCIA
If you don't like parking on the street and you prefer a covered car park, or you cannot find a place where we have written, we will indicate several public car park options for you to choose from, sorted from closest to furthest from our meeting point.
Parking REINA*. If you're looking for the closest one, without any doubt it is, which is located a few minutes from the Plaza de la Virgen. Thus, you will only have to surround the cathedral to reach our meeting point. These are the fares (according to the website http://aumsa.es/alquiler/aparcamientos):
⚠️This parking is currently closed for refurbishment works in Queen Square.
Maximum daily rate: 21,15€
Maximum nightly rate from Monday to Sunday (from 10:00 p.m. to 06:00 a.m.): 5.95€
1 hour: 2,90€
From 0 to 15 minutes: 0,084€ / min.
From 15 minutes to 5 hours: 0,037€ / min.
From 5 to 10 hours: 0,031€ / min.
Parking AVENIDA DEL OESTE. It's located 10 minutes from our meeting point and is behind the Mercado Central, so you can cross it on the way to our meeting point and marvel at its modernist architecture and fresh products. Check the rates and the location in the following link:
https://www.pavapark.com/parkings/parking-avenida-del-oeste-valencia/
Interparking Glorieta Paz, located in Plaza Tetuán, in front of the Capitanía building and the Fundación Bancaja, from where you can go to Plaza de la Virgen through the Calle de la Paz and go surround the cathedral to Plaza de la Virgen in less than 10 minutes. Check the rates and the location in the following link:
https://www.interparking.es/es-ES/find-parking/Glorieta-Paz/
PARKING IN VALENCIA
We hope that this information will assist you if you have decided to come by car. And don't forget: if you have any question about our tours, we will be delighted to provide detailed information at:
Our email info@freetourvalencia.com
Our telephone numbers 961 11 29 01 / +34 693 75 60 42
Instagram, Facebook, Twitter, YouTube, LinkedIn
PARKING IN VALENCIA